How IoT enhances medicine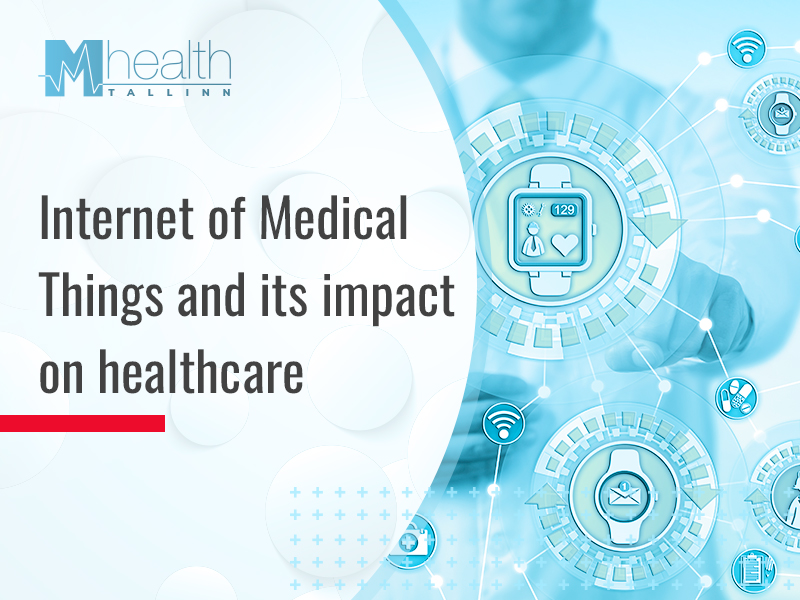 As given by the survey of Market Research Engine, the IoT market in medicine would reach $158 billion by 2022. The technology can be seen in various healthcare niches to remotely monitor patients and make the right diagnosis.
The notion of the Internet of Medical Things
Modern healthcare is the sphere most infused with the Internet of Things. According to the analysts from IDC, wearables alone would attain $222 million in 2021 (the volume of this market in 2017 was $113.2 million). The world's total quantity of connected medical devices is expected to rise from 10 to 50 billion in the nearest 10 years.
The Internet of Medical Things (IoMT, Health IoT) is the infrastructure of intelligent devices, software, healthcare systems, and smart services. This technology enhances medicine, helps provide remote aid, collects more data on a patient. All IoT-based devices and solutions in the healthcare sphere can be roughly divided into two types:
aimed at clinics and doctors;

aimed at users, i.e. patients.
Intelligent devices (for example, smart gadgets, sensors, heath rate measurers) accumulate and process such data as a general health state, allergic reactions, and tests. They help medical staff quickly make up patient statistics and medical records. Doctors leverage an opportunity to obtain the data from connected systems in order to be more effective at patient treatment, provide timely and relevant aid as well as prevent recurrence of chronic diseases.
Main advantages of smart gadgets and solutions for medicine:
increased staff mobility and performance;

accelerated processing of patient data;

mitigated risk of mistake and human factor;

cost-effective treatment.
As provided by Accenture's research in 2017, three-quarter of healthcare executives say IoT in medicine would be disruptive within a couple of years. The changes will take place first of all in three areas: remote patient monitoring, prophylaxis of chronic diseases (aided by wearables), and data collection.
What tendencies of IoMT application can be seen on the market today, how does the technology help patients and healthcare staff right now?
Patients' health smart monitoring
IoMT helps monitor the state of equipment in hospital wards, track the serious patients' health by special sensors. Such devices can control the patients' health state from the moment they arrive in a hospital, collect and update the information about them without the need for nurses (thus saving time and money).
Smart medical sensors are frequently placed on hospital beds. For example, SMI manufactures special sensors that prevent pressure ulcers of heavy patients. They measure force put on the mattress and help effectively redistribute it to minimize the occurrence of ulcers. There also exist devices that monitor heart and respiratory rate. They track the vital signs and alert nurses if a critical change is detected.
What is more, Florida Hospital Celebration Health uses special badges with sensors, a location tracking technology inside the clinic. It monitors both medical personnel and patients. The technology helps optimize the work of the hospital: arrange medication in a convenient way, create staff schedules, distribute patients among wards.
How to remotely monitor patients' health state
Medical establishments are not a single place where sensors, gadgets, and other kinds of smart devices can be applied. One of the key features of IoMT solutions is the remote provision of some healthcare services and health state monitoring.
Remote health state monitoring, or telemedicine, exposes an opportunity to:
collect data on the patient's health state before visiting a doctor;

remotely consult people on urgent problems;

build a card of patient's activity and chronic disease manifestation;

provide fast aid in critical cases (for example, stroke).
This concept implies medical staff replacement with smart apps on various devices. For example, special flexible gadgets Shirley Ryan AbilityLab are used for stroke rehabilitation. They are attached to the neck in order to track swallowing as well as speech disorder (aphasia).
It allows those suffered from a stroke to stay in and do household activities instead of spending time in a hospital being wrapped in wires. All the data is real-time, which accelerates patient's rehabilitation.
How the IoMT optimizes care process
Clinics with smart systems can provide simpler and quicker solutions to the care process.
For instance, AutoBed (developed by GE Healthcare) is an algorithm that helps nurses fast and effectively carry out the triage process, control the quantity of patients, and track their movements. The system leverages identification tags, an infrared port, and computer vision. The IoMT solution allows to halve waiting time so that urgent patients get quicker aid. AutoBed is used at the Mount Sinai hospital located in New York.
American startup Inspiren has devised a fully-fledged ecosystem for the Internet of Medical Things called iN. Its aim is the provision of patients with the most effective care using top-notch technologies. The system uses computer vision, movement sensors, it can collect data from a vast range of IoT gadgets, analyze them by leveraging deep learning. It allows iN to predict the course of a disease, make a diagnosis, avoid medical mistakes. The algorithm also takes smart sounding and helps patients stay in touch with medical staff.
In the USA, medical errors are the third-leading cause of death (more than 250 000 per year). Similar developments in the sphere of the IoMT help reduce this number and prevent lethal outcomes.
Indoor GPS and smart medical devices
IoT devices in medicine not only ease the burden on doctors in terms of diagnostics. They also help monitor the work of a medical establishment. Such gadgets can analyze obtained information and offer solutions that would allow to make staff performance more effective.
One of the key functions of such smart systems is accounting medications and equipment. For instance, the Groningen–based hospital uses a special smart network that enables every employee to get access to patient data as well as monitor the location of available equipment and drugs.
Philips' e-Alert is another system to optimize the work of hospitals. It helps monitor the actual state of medical devices. The system also predicts and prevents faults as well as informs when equipment needs routine examination and details replacement.
Devices and systems of the Internet of Medical Things also help in-patients get the feeling of comfort. For instance, at New York-based hospital NYU Langone, patients can order meals, adjust room lighting, view entertainment via a tablet, and get information about medical staff using special smart system MyWall.
Enhanced drugs management
Due to IoMT, healthcare currently sees completely new ways of health monitoring and treatment. The world can now use smart drugs with inbuilt sensors: they allow clinicians to get more detailed information about the patient's health state.
For example, Proteus Discover offers sensor-aided drugs and a special patch attached to the body. The patch uses sensors to collect the data about the patient while a smart pill informs about the organism's state from the inside. Both a patient and his/her attending doctor may look through processed and analyzed data.
AdhereTech is another manufacturer of smart solutions in this field. They have devised a smart bottle for pills. The gadget reminds people to take drugs. The sensors detect the time when the medication is taken out of the box. In case if a patient fails to adhere to the schedule, the system sends signals and notifications to the smartphone. The obtained data also goes to the clinician. This would mitigate the risk of disease recurrence caused by improper drugs intake.
Conclusion
According to the analytical forecast of Markets and Markets, healthcare is the most fast-paced segment of IoT. Devices and smart systems are not created to replace doctors and nurses but optimize their work.
The key driver nurturing the development of IoMT is the need for gadgets and apps to maintain health. Tractica's analysts anticipate that the quantity of clinical and non-clinical connected body sensors would reach 92.1 million units in 2022 (compare 2.4 million in 2016).
IoT devices in the field of healthcare are currently used mainly in economically developed countries such as the USA. The main hurdle of the across-the-board introduction of such systems is compatibility and safety as well as the high cost of the technology.
Subscribe to get breaking news