Focus on Patients in Healthcare: Presentation from President at Government Blockchain Association Italy, Mirko De Maldè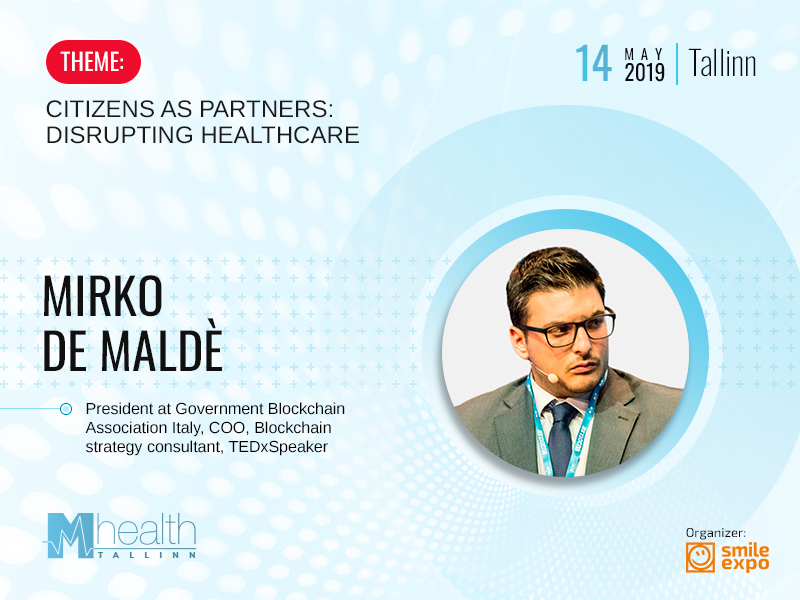 One of the healthcare industry problems is the inability of patients to access their personal data. In order to make the medicine sphere effective, it is important to engage the patients in processes, and new technologies help with it.
The new approach to healthcare will be discussed on May 14 at the M-Health Congress Tallinn. President at Government Blockchain Association Italy, Mirko De Maldè will deliver the presentation "Citizens as partners: disrupting healthcare."
Key points:
overcoming the paternalistic approach to healthcare;

patient engagement, self-management, and the new therapeutic alliance;

patient generated data, self-sovereign data management, Medical IoT and the democratisation of health;

blockchain as operating system for the next generation healthcare;

the MyHealthMyData experience.
Mirko De Maldè is the expert in blockchain, smart contracts, cryptocurrencies and ICOs, specifically focusing on personal health data.
The expert has experience in managing large collaborative projects mainly in the field of eHealth. Currently, he is the COO at Lynkeus – a company which promotes technological solutions to complex socioeconomic problems in such areas as eHealth and eGovernment.
Also, the speaker is the President of Rome Chapter at Government Blockchain Association, which helps government industry and private sector to connect, communicate and collaborate.
Apart from that, the specialist is also a member of the management team of the MyHealthMyData project. It aims at integrating DLT for secure and transparent personal health data storage and exchange.
---
Learn more about healthcare industry from the expert at the conference!
Subscribe to get breaking news