Europe's regulatory landscape for mHealth and examples of apps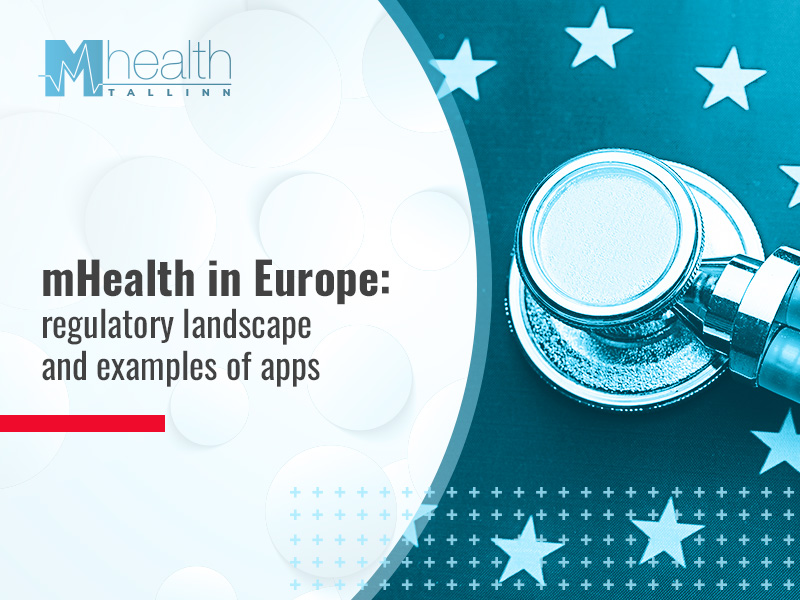 In Europe, mHealth is a part of the e-healthcare development program. It means that information and communications technologies are utilized to improve medical products and services. mHeath is currently considered to be a prospective direction to be integrated into the conventional healthcare sphere. Let us find out more about European lawmakers' attitude towards this niche and existing apps.
Europe's regulatory landscape for mHealth
As far as 2014, the European Commission launched a public consultation alongside mobile healthcare. The responses showed that citizens mainly distrust apps tracking their health or giving advice. Meanwhile, developers complain about the absence of unified quality and reliability criteria.
That is why the European Commission elaborated the privacy code for mHealth apps. Its aim is to boost citizens' confidence in such applications.
Data collection and aim of its usage
The code stipulates the obligation of mobile apps developers to request permission for data collection. They must ensure complete data security since any leakage is subject to liability. For example, an app gathering data on blood sugar must not transfer it to third parties.
Besides, developers must clearly stipulate the mechanism of app work as well as the aim of private data gathering.
Terms of storage
The European Commission does not set a clear timeframe for storage. Instead, the organization lays down that patient data must not be kept in storage for a period that exceeds the time needed for its processing and usage within the app.
Advertising
Developers must notify a user about the presence of ads in the app. In case of contextual advertising, a user must be provided with a right to reject data collection for ads generation.
Nonetheless, developers may make advertising a compulsory condition for app installation. If a user rejects such terms, an app is automatically deleted from the device.
Secondary use of data
Developers of mHealth apps have a right of secondary use of personal data. For example, if there is a need for the creation of a Big Data base. In this case, the developer has to choose the legislation to comply with: Common European or local.
Third-party usage
To ensure app performance, developers are sometimes forced to transfer data to a third party: for example, to back it up. Here, app authors must request user permission. If not, data transfer to third parties is prohibited.
Data breach
The code provides that in case of a data breach, the app author must identify if any personal data has been stolen. They also have to inform the local authority responsible for data protection about a leakage within 72 hours.
Children data
The code obliges developers to exercise the strictest rules of data storage and transfer towards children (according to the EU, 16+ individuals).
Examples of mHealth projects
Shim
The team of developers includes psychologists, researchers, writers, engineers, and designers. In fact, Shim is a chat with a bot. It identifies a gloomy mood and cheers a person up in the course of a dialog.
The app combines the methods of cognitive behavioral therapy – a communicative therapy usually used to treat mental disorders. It helps combat depression, anxiety, and even bipolar disorder.
Robot Charlie
This robot was created especially for children suffering from diabetes. It plays a simple educational game 'question - answer' with children. For example, the robot shows pictures with various sweets on a display, and kids have to choose ones with the highest sugar content. In this way, children with diabetes find out desserts to say no to.
Vivy
This app is used in Germany and gives citizens a possibility to make an appointment at the doctor's. Besides, it serves as a real e-medical record. Vivy allows to store vaccination certificates, X-ray images, examination reports, even adjust drugs intake reminders.
Two dozens of German healthcare establishments have already implemented Vivy into their practice.
Google Fit
It is an activity tracker developed by Google and the World Health Organization. Google Fit gives points for user activity. It tracks workouts and shows aims set by a user. Besides, the app provides advice on exercising. Google Fit can be synchronized with trackers of other apps and devices.
Conclusion
The guidelines for mHealth promotion have been effective in Europe for five years. The lawmakers laid down a legal framework stimulating developers. On receiving quality criteria, they started creating more effective apps. As a result, everyone is satisfied: authorities, app authors, and most important – users.
Subscribe to get breaking news