VR as the future of healthcare. Five examples of the technology use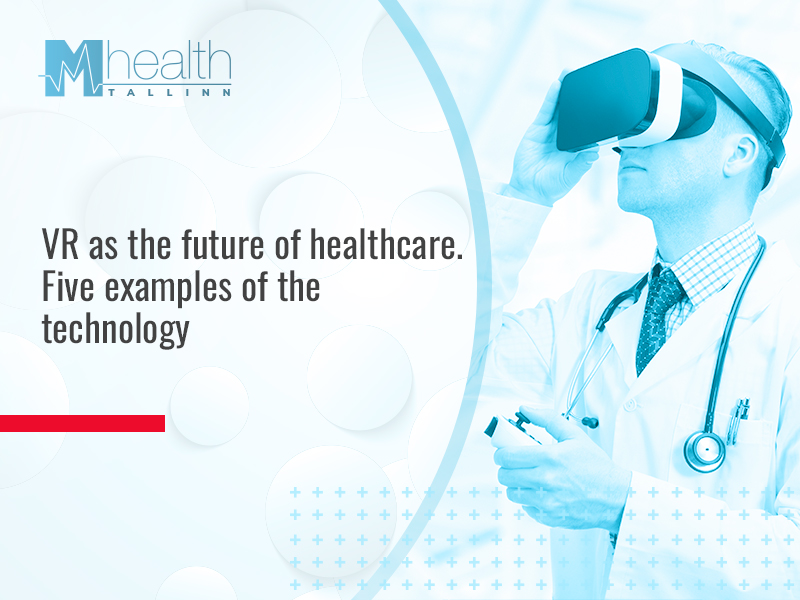 Virtual reality is not restricted to the entertainment industry only. It allows medical students to learn the material more quickly as well as eases patients of chronic pain. Read the article for more cases of VR use in the healthcare sphere.
Watching operations
Surgery is a practical sphere. The mere theory is not enough to conduct an operation. Nonetheless, the doctors-to-be do not have free access to surgical procedures while studying. What is more, many patients are skeptical about inexperienced doctors and decline their services.
The virtual reality technology would make the studying process maximally beneficial even without students' presence at the operation.
In April 2018, The Royal London Hospital for the first time ever removed cancer cells streaming the operation. To ensure good broadcasting quality and stay concentrated, the surgeon used Mixed Reality Google Glass. Thus, 13 000 students could observe doctor's manipulations and ask questions online not distracting him from the operation.
Recovery after traumatic brain injuries
A stroke leads to a high risk of post stroke depression. It badly affects:
rehabilitation process;

life quality;

somatic health;

mental state (leads to anxiety disorders).
The earlier a patient who survived a stroke starts rehabilitation, the better his/her chances for regaining the functions they have lost. Mindmaze is a Swiss app that allows patients to practice how to move their fingers, arms, and legs by means of VR.
Although patients do not carry out the actual movement, their engagement, motivation, and attention are notably improved with audio-visual feedback. It helps speed the recovery of traumatized nervous systems.
Dementia treatment (Alzheimer's)
Alzheimer's is the most widespread dementia type. It is estimated that there are 5 million cases of Alzheimer's disease in America alone.
This disease makes it difficult to understand brain processes, memories formation, and logical connections between events. In this case, neural biologists need to get a profound understanding of a patient's health state.
Virtual reality helps a doctor understand what happens to the brain when new information is passed on to it. Nanthia Suthana, a neuroscientist at the David Geffen School of Medicine at UCLA currently uses VR for dementia investigation and treatment.
The doctor applies a surgical neuroprosthesis aimed at monitoring of convulsive seizures of patients with epilepsy. She started using it to register the brain electrical activity when a human moves. Having an inbuilt prosthesis, patients were equipped with VR devices. Their task was to orient in the virtual environment.
Correlation of brain electrical activity with patient's movements by means of VR is the first development of a kind.
Chronic pain treatment
Medical VR has been evidenced to be effective in chronic pain treatment. There is a range of programs aimed to distract a patient's brain and alleviate pain.
For instance, KarunaVR makes the use of Graded Motor Imagery and Movement Science to help patients overcome pain and motor impairment. The software uses immersive VR technology. It offers motion and visual based experiences that help in fixing brain discordance.
On contrary, another app OnComfort enables stress management. The system identifies stress peaks and anxiety of the patient and offers a simple yet effective non-pharmacological solution.
Application prospects
Medicine exposes some limits to experiments since any doctor's action can affect a human life. Notwithstanding, VR tech advance may play a vital role in forecasting of the outcomes of the treatment. 3D data (tomography, X-ray machine, and ultrasonography) allows doctors to work out interactive treatment models that are more effective and comfortable for patients.
---
For more information about new technologies in healthcare, visit M-Health Congress Tallinn scheduled for May 14 in Estonia.
Subscribe to get breaking news